DSV Selector Valve
Dynamic's NEW 6 way, 2 station 12-volt DC Selector Valve is operated by a continuously rated wet pin solenoid. It is capable of switching from one circuit to another at a variety of flows and pressures. Standard ports are SAE-8, but additional port options may be available by special order.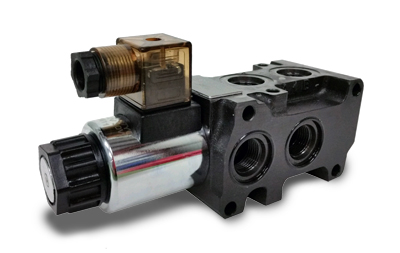 DSV - Selector Valve Catalog Page
Model #: DSV-62-08-12
Hydraulic Specifications

Port Size
3/4-16 (SAE-8)
Max Flow Rate
13.2 gpm
Operating Pressure
3600 psi
Oil Temp Range
-4°F - 158°F
Viscosity Range
70-1790 SSu
Filtration Requirement
NAS 1638 8
Electrical Specifications

Supply Voltage
12/24 VDC
Amperage Rating
1.25A for DC 24V
2.5A for DC 12V
Max Ambient Temp
125°F
Max Coil Temp
356°F
Duty Cycle
Continuous
See catalog page for additional details.